Introducing Our (not-so-secret) Ayurvedic Powerhouse Complex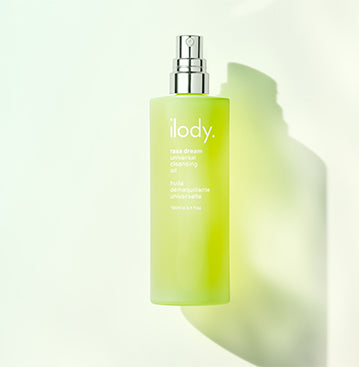 Our gorgeous new RASA DREAM CLEANSING OIL has been a long time coming. That's right, nearly two years in the making.
Rasa Dream was created to put an end to the sticky and expensive oil cleansers we find in today's marketplace, and that we all feel we HAVE to try. Whether we've seen it advertised on social media or the latest celebrity swears by it. Most of the ingredients, we can't even pronounce! Our founder, Deepika, has made it her mission to source only the finest ingredients, so that ilody and you, can reap the skin benefitting rewards of radiant, glowing skin.  
As Ilody's latest addition, Rasa Dream has been formulated with transparency, integrity and of course, with every skin type in mind. From clear or combination, to oily and acne prone. Each carefully curated ingredient comes together in our beautiful blend to create a (not-so) secret ayurvedic weapon. Together, they allow for our rejuvenating and calming cleanser to be as effective as it is gorgeous - even its sweet scent of clove bud, Himalayan cedarwood, geranium and mandarin have been chosen to gently awaken your senses in the morning - it's this level of detail that makes Rasa Dream one of a kind.  
While most beauty companies like to keep their trademark formula a secret, at ilody, we're open and honest, sharing everything we possibly can…
The foundation of Rasa Dream starts with the formulating of natural oils. These work to penetrate the skin so the complexion is purified and hydrated from within, and not just on the surface of the skin. Rasa Dream uses sunflower, safflower, moringa oils and rice bran, all of which are packed full of rich nutrients and vitamins. Sunflower is especially known for its emollient properties and for adding an extra layer of moisture -  exactly what we'll need this winter to prevent those cold skin dry-outs. Moringa oil then acts as a barrier to lock this moisture in, giving a healthy, youthful glow. 
At the heart of Rasa Dream lies our Ayurvedic complex that is a signature blend of calming and brightening botanicals, curated to bring radiance, clarity and support to our complexions… 
Turmeric is a powerhouse! It helps brighten the skin and the appearance of uneven skin tone. It also has fantastic anti-inflammatory properties to reduce inflammation and speed up the skin's ability to heal.  
Licorice is known as a natural tyrosinase inhibitor, meaning that it helps to reduce hyperpigmentation caused by environmental aggressors. Think sun damage, UV, irritation and redness. A plant native to Western Asia and Southern Europe, licorice has nearly 300 compounds that have antiviral, antibacterial and anti-inflammatory properties. It's a trusted game changer. 
Tulsi contains high levels of vitamin C and is a potent antioxidant. It eliminates germs that can lead to breakouts and acne, and like no other, can unclog pores for a clear, radiant complexion. It also helps restore moisture, leaving that feeling of soft, comfortable skin.
Punarnava literally means 'that which renews' and so is well known for its rejuvenating powers. It brings to the table balancing properties which help to alleviate inflammation, swelling and stressed skin … an ingredient we all wish we could carry around in our back pocket!
Last but certainly not least is Manjistha, also known as Indian madder root powder. This herb is renowned for its brightening effect on the skin, working to reduce dark spots and even dark circles around the eyes. It's known for stimulating the lymphatic system, which is why this powerful herb beautifully complements our beauty rituals. Massaging this into the skin reduces fatigue and exhaustion - ideal as part of both your morning and evening beauty ritual. 
Head over to our Instagram to watch our beauty ritual in action.